The Diving ...


Manado Diving - North Sulawesi, Dive lembeh strait !
Diving in Lembeh Straits is becoming more popular among experienced divers and photographers these days. For a full day trip from Bunaken island, you are required to leave early by boat to Manado harbor, continuing with a one and a half hours car ride from Manado to Bitung. It is a full day trip ! Now, with our new SDQ Lembeh Resort, you can stay near where the action is. Our reasonable prices for diving and accommodation allow you to make 3 to 5 dives with various choices of Critter Diving and some interesting Wreck diving each day. Have I mentioned you can also dive in crystal clear waters among coral filled walls, right here in Lembeh as well? You can now dive to your heart's content!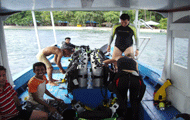 The Muck Diving in Lembeh Strait will take place at the east coast of the mainland and the west coast of Lembeh Island, both sides offering very unique diving conditions and each of the dive site comes with its special creatures. In general you will see many beautiful macro creatures such as various colorful Nudibranches, the Pygmy Seahorse, Ghost pipefish, Frogfish, Cockatoo Waspfish, Mimic Octopus, Wonderpus, Flamboyant Cuttlefish, Pegasus fish, Blue Ribbon Eel, Banggai Cardinal Fish and a whole lot more.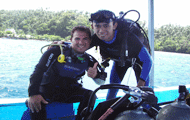 Our daily schedule: dive 1 at 8 am, dive 2 at 11 am and dive 3 at 3 pm. Additional night dive is at 6.30 pm before dinner. Do note that it gets dark pretty early in Lembeh. If there is a group, we can cater to even more dives a day on your schedule. Don't miss the chance to have a full day dive trip (2 boat dives) to the Bangka area. Bangka is easier to reach from Lembeh (around 2 hours and 30 minutes by boat) which offers good sloping coral reef with rich and colorful soft corals and hard corals, a lot of reef fishes with possible encounter of some pelagics and on top of that, there are critters like what you see in Lembeh too.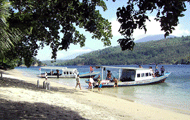 A Guest Comment :A Guest Comment : Hi! Anky, Nan and all the crew of SDQ. Thanks for making our stay in Bunaken and Lembeh an experience of a lifetime.In the water,we never stop to mavel the vast varieties of marine life and the excitement of discovering a new species in Lembeh . Out of the water its the laidback environment of the resort that we treasure.The local dishes were sangat enak !!! ( very delicious ). We will be back for the food if not the dive! Ha! Ha!
Wee-Boon Ang
Location: Singapore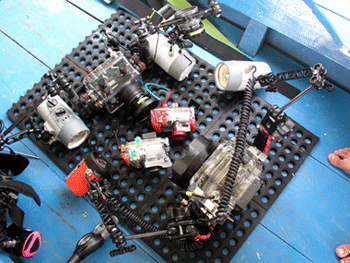 U/W Camera on the dive boat
SULAWESI DIVE QUEST
LEMBEH ISLAND

SDQ Lembeh Island - Near Bitung
North Sulawesi - INDONESIA
info(at)sulawesi-dive-quest.com






Japan Web