Accommodation on Lembeh island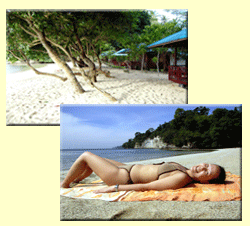 Manado - North Sulawesi, SDQ Lembeh Dive Resort is located exactly on Lembeh Island. We have only 5 bungalows and 4 Budget Rooms with max 16 divers only. The bungalows and the budget rooms are beach front and built in the traditional Minahasa style with verandahs. Our resort is located on a beautiful private white sandy beach, with the Lembeh Strait and its amazing dive sites right in front of your bedroom!!
<< BEACH AND OUR LOCATION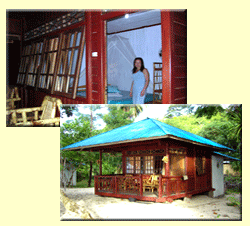 All bungalows have a two round plug type power socket. The electricity will be on only at night time. But whenever you wish to charge your batteries, you are able to charge during day time for max two hours ( It is normally after second dive ). All bungalows have running water, but we do not have hot water. We have also a beach front restaurant. Beer is available too, and other cold soft drinks. Coffee, Tea and Mineral Water is FREE. Afterall, we don't want you to be dehydrated! If you have any request, you can ask the crew / cook to prepare special food that you want to eat ;) Indonesian noodles and banna fritters are the most popular!


OUR BUNGALOW >>


Bedroom for a bungalow in Sulawesi Dive Quest ( SDQ ) on Lembeh Island have 1 big bed for couple and twin beds. All our Bungalows are equipped with FAN, MOSQUITO NET, A PLACE FOR CAMERA, CLOTHES ETC. The electricity normally will be on all night. At the day time, on request, we also provide electricity for you to charge your battery.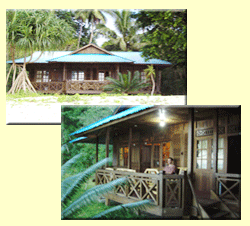 This Unique dive package you will have when you stay at our PATO PATO ROOM. When you stay at this room you will pay nothing for meals and accommodation. Pato Pato rooms have total 4 rooms, each room can accommodate 2 person. The room is smaller a little bit than our bungalows. The room have Fan, mosquito net, and 2 bathrooms for share. You will pay nothing for meals and accommodation but you must do 3 dives a day for min 4 days diving. 3 dives a day cost USD 75. Please look more the Pictures of PATO PATO room

PATO PATO ROOM >>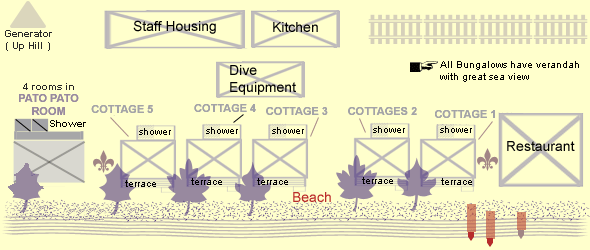 Property of SDQ Lembeh - Map
RESTAURANT IN SDQ LEMBEH ISLAND
SULAWESI DIVE QUEST
LEMBEH ISLAND

SDQ Lembeh Island - Near Bitung
North Sulawesi - INDONESIA







Japan Web